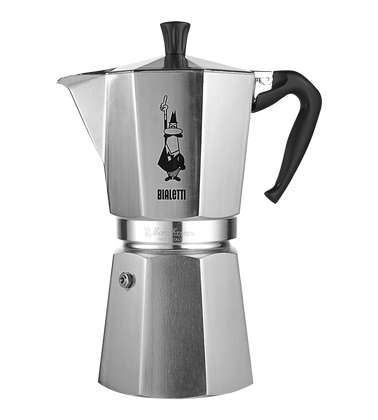 Moka Pot
The Moka Pot is the classic stovetop espresso maker that brews up a tasty cup of coffee and can be found in just about every Italian kitchen.

what you'll need
4-cup Bialetti Moka Express
ingredients
15-17g (2½ tablespoons) coffee – fine grind
Hot water just off the boil
tips
For best results start with whole bean coffee and grind with a burr grinder just before brewing.
High heat or leaving moka pot on flame for too long will turn a good cup of coffee into a scorched one.
Relax and have fun with this – brewing coffee is not an exact science.
Add water – filling to the line in the bottom of the brewer.
Insert filter basket.
Fill filter basket with coffee grounds and level off with your finger.
Brush away loose grounds on the top edge of the filter basket before securing top and bottom chamber together.
Place over a low to medium flame on your stove.
When the water in the bottom chamber approaches a boil, pressure will build and push coffee to the top chamber.
Remove from flame as soon as the top chamber is filled with coffee.
Serve and enjoy.