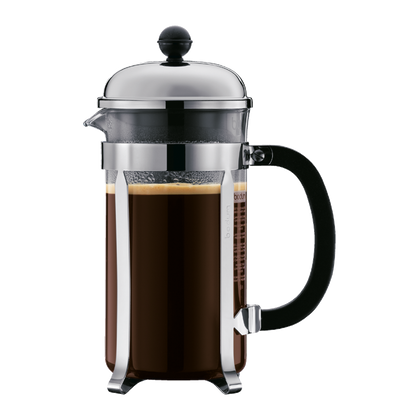 French Press
The French Press is an oldie but a goodie. Reliable and forgiving – a brew method you can count on for a consistently good cup of coffee.

what you'll need
8-cup French Press
Timer
Stir stick or wooden spoon
ingredients
56g (8 tablespoons) coffee – course grind
Hot water just off the boil
tips
For best results start with whole bean coffee and grind with a burr grinder just before brewing.
Relax and have fun with this – brewing coffee is not an exact science.
Bring water to a boil.
Swirl a bit of hot water in French Press to preheat it. Discard water before moving on to Step 3.
Add coffee grounds and start timer as you fill French Press halfway with water, evenly saturating the grounds.
At 1:00 give it a good stir and bring water level to just below the spout.
At 4:00 press plunger all the way down with slow, steady pressure.
Serve and enjoy.